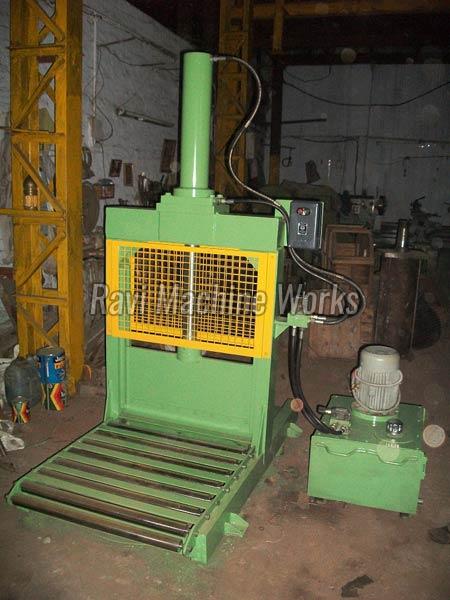 Rubber Bale Cutter is that kind of machine which is typically used for cutting for items such as bales and natural rubber in different sizes. When it is equipped with a hydraulic power pack and cylinder, this cutter eventually gives excellent performance. The best quality rubber bale cutter includes alloy steel blades that are used for fine cutting and suitable rollers to offer ease of handling of heavy bales. The steel hardened rollers assure effortless movement of the bale passing through the machine. If you want to cut toughest natural and synthetic rubber bales then semi and fully automatic cutters are ideal to perform these functions.
Designing & Manufacturing process of Rubber Bale Cutter
It basically consists of a precision blade, column, hydraulic cylinder, base and power pack unit. Firstly, the oil is supplied by the hydraulic power pack unit, which functions the cutter through the cylinder and to protect the edges, lead or nylon is heaved on the base under the cutter. The high precision inclined cutters with ceaseless bales cut the rubber into a predetermined size of the pre-selected thickness. The cut rubber is automatically discharged with the help of rollers. Finally, conveyors are provided with the unit to carry the final outcome of the cut piece of bales.
Rubber Bale Cutters are known for their amazing performance, precision and productivity. Following are some of the salient features of the machine offered by the leading rubber bale cutter supplier:-
Rigged with hydraulic power pack
Acted with double hydraulic cylinder
Improved quality cutting
Great precision
More productivity
Extreme flexible
Ability to cut both natural as well as synthetic rubber bales
Exceptional performance
Less power consumption
User-Friendly operation that require proficient on-field operator
Requires no manual intervention
Automatically discharge of bales with the assistance of rollers
Rubber bale cutters are highly demanded by people all over the world as it is well-reckoned for its durability and versatility. Therefore, in India these bale cutters are manufactured and exported every year by the best rubber bale cutter exporter in India to other nations like Europe, Mexico and Gulf countries.
Some of the crucial aspects to be taken due care by the suppliers of rubber bale cutter in order to maintain their credibility in the market are as follows-
They should have a state-of-the-art infrastructure well equipped with cutting edge machines in vast space.
They should have separate teams of engineers, technicians, quality auditors, warehousing personnel, sales and marketing professionals and logistics partners.
They should use high quality raw material and ensure to employ the latest technology and techniques in the production process to offer the best quality products.
They should have a research & development department who keep an eye on changing trends in order to upgrade the facilities accordingly and timely.
They should surely have a team of quality experts which keep a regular check on the products using the latest equipment on various parameters like performance, design and service life.
They should work and coordinate in tandem with each other in order to achieve all the set goals within the prescribed time frame.
Their professionals should apply their innovative ideas and thoughts to develop new products as per the changing trends. Also, they should take proper feedback from the clients in order to improve the quality of their products.
They should manufacture these rubber bales in compliance with the international norms and standards set by the regulatory authorities.
Conclusion
Thus, it can be strongly stated that export of rubber bale cutters is increasing rapidly to meet the sprouting demand of the global market. Choose these robustly designed cutters as per your specific need at market leading prices.